We will be offering a custom fuel cell that will fit in a 92-2000 Civic and 94 -2001 Integra and fit in the original location of the factory fuel tank and use the factory fill pipe. Capacity is 5 gallons but if it needs to hold more that is not a problem as they will be made to order. The 5 gallon unit weighs about 5 lbs which is 20+ lbs lighter than a factory unit. I will post up the pictures of the straps and mounting hardware tomorrow.
The sump with a single -12(any combination of AN or pipe thread can be used, just specify at time of order):
A pic of the top before the sump welded is on: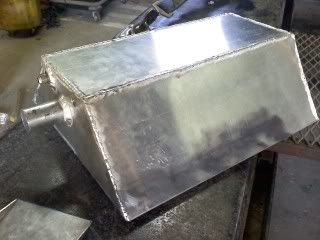 Bottom pic: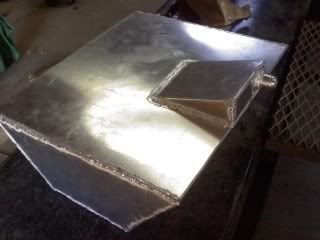 Other custom options such as in-tank fuel pump(s) mounting options, fuel level sending units, etc are available as per customer request. If you would like something like this for a non Honda product we would just need your vehicle so we can fabricate one to fit your needs.