SO..if you haven't seen this before, I bought it as a basically stock and dumped wagon. Suspension was angry, rode pretty rough, and the carb'd motor loved to backfire....bought a complete parts car to get it back on factory suspension so I could mod it the right way, totally take apart to paint by Brian's Paint and Body which is down here by me in Sharpsburg. Now, Charles is working his magic getting the swap in. Going to be a fun daily I think !
Car is finished with paint. Really looks great and I'm really happy with how it turned out. Brian did an incredible job. It's tank Green, factory nissan color. We decided to paint the pitted chrome stuff rather than put it back looking half assed. I like how it kind of changed it to more of a prelude-ish look to it.
Also, we started a roof rack, and I like the bones of it, but I'm going to redo it..I wasn't there and my carpenter friend can really make it kick ass.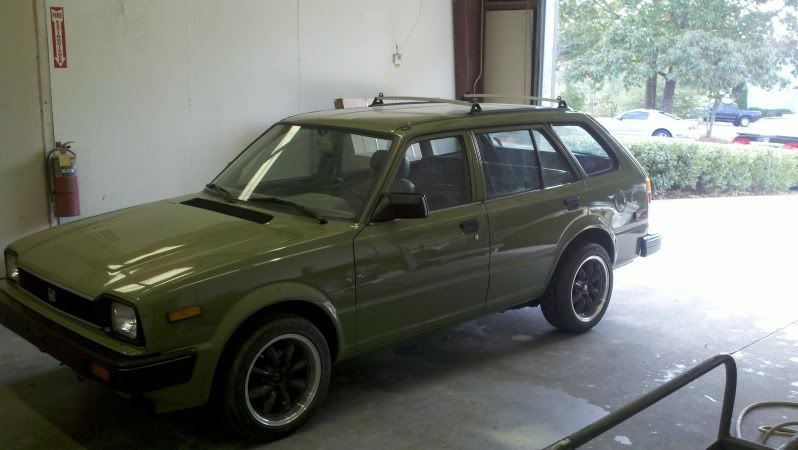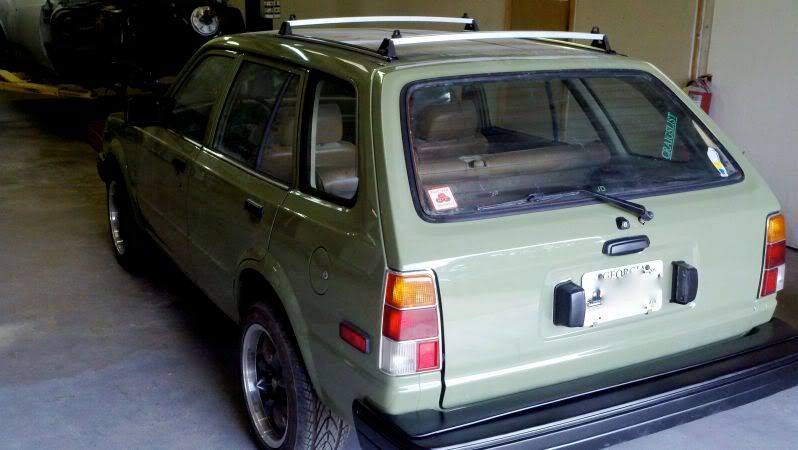 So it's pretty sweet in my opinion. Now, the car is at Mainstream Performance in Dallas,GA where Charles is working his magic.
Swap is from a 96 Integra LS. He has 33'' of clearance for 37'' of motor and tranny, but he's a magician and got it to work. It now has mounts since this picture was taken. Lots of little stuff to figure out...like trying to keep AC cause it's damn hot down here in ATL in the summers, possible new gauge cluster, wether or not a KiddRacing header will fit...what axles to use since the factory ones are way too long.
Plus, I'm going to be running a new set of Enkei 92's on it, and I'm doing the debate of 15x7 35mm+ or 15x8 25mm+ and KW Suspension is still trying to figure out what we could use on the front to get this thing down since the struts on this are a little weird. I'm open to any suggestions you guys have...the guy before me used oem DC springs and struts with some crazy washer/bolt action to keep them in. Slammed it and in theory still had travel, but it wasn't done right.
Then, get my recaro's recovered, get a stereo in there, and hopefully one of my friends will take it to Import Alliance if it's done in time since I'm sure I'll be on the road, either with NASCAR or Top Gear.
Hope you guys like it so far..